New Castle
It is with deep and profound sadness the League of Women Voters mourns the passing of Justice Ruth Bader Ginsburg. A fierce advocate for women's rights and civil rights, Justice Ginsburg's vision for America transcended race, age, gender, and economic lines. She was a beloved champion of justice for all. Early in her career, she was a trailblazer who challenged the status quo and bucked tradition, upending gender norms and societal expectations of women through her strategic litigation approach. When she was denied opportunities, she created her own and ensured that the door was opened for others. Over Justice Ginsburg's 27-year service on the United States Supreme Court, she was a champion of the Constitution , famously penning a stirring defense of the Voting Rights Act in her dissent to the Court's Shelby County v. Holder decision and the Court's opinion in the United States v. Virginia, which struck down Virginia Military Institute's male-only admissions policy. Justice Ginsburg's wisdom, determination, and dedication to equal rights embodied the League's belief in the power of women to create a more perfect democracy. She touched each and every one of our lives. May she rest in power.                                                                                                                                            - League of Women Voters President Deborah Turner and CEO Virginia Kase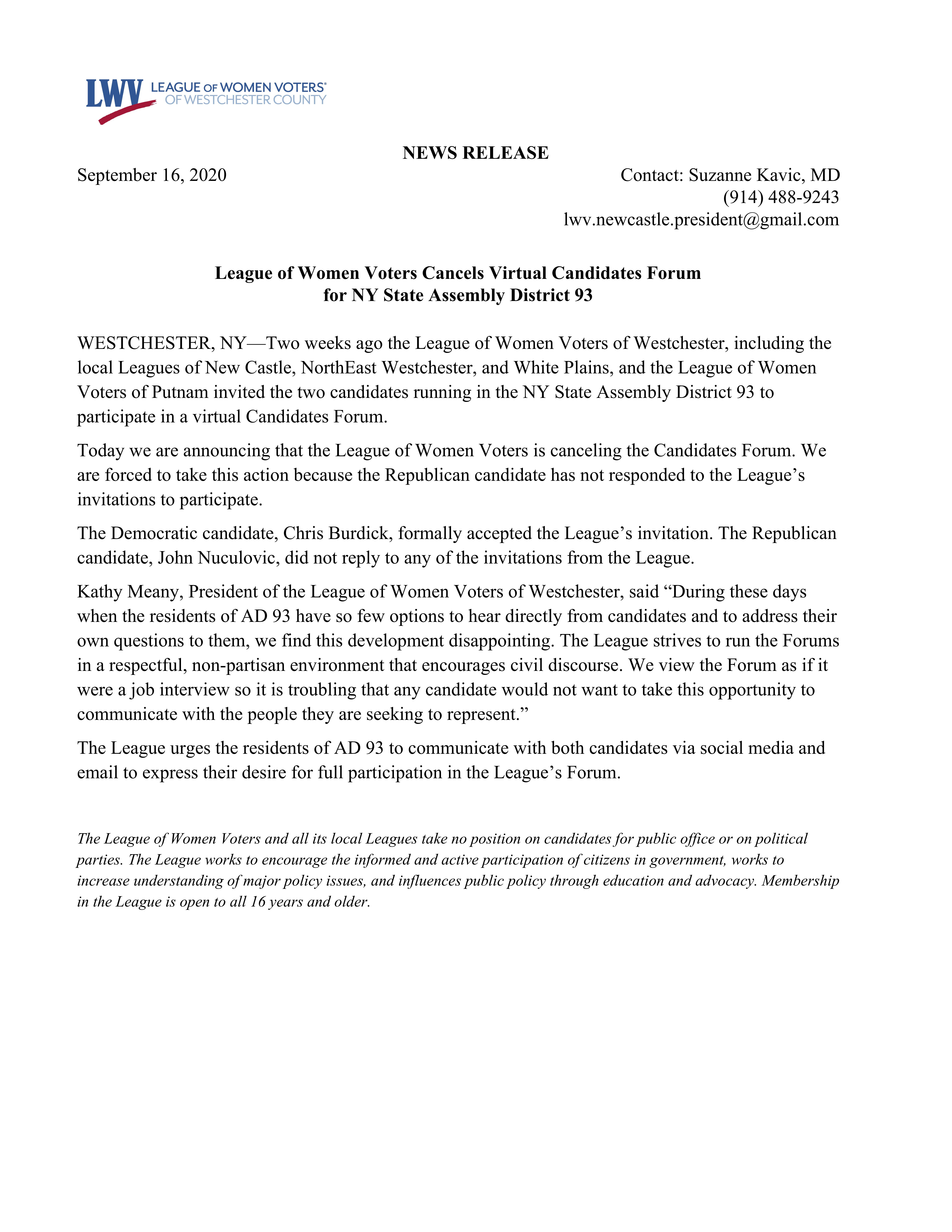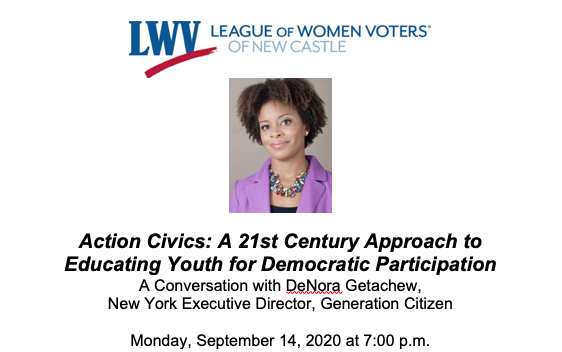 Did you miss our conversation about how student-led, experiential civics education can equip our students with the skills, knowledge, and dispositions for lifelong civic participation in our 21st century democracy? You can watch it here, thanks to NCCMC.
Action Civics: A 21st Century Approach to Educating Youth for Democratic Participation from New Castle Media Center on Vimeo.
VOTER INFORMATION/RESOURCES 
DEADLINES FOR VOTING IN THE NOVEMBER 3, 2020 GENERAL ELECTION
October 9, 2020 - Last day to postmark voter registration form or to register in person at your county Board of Elections office.
October 24 - November 1, 2020 - Early voting period
October 27, 2020 - Last day to postmark application for absentee ballot
November 2, 2020 - Last day to apply in person for absentee ballot
November 2, 2020 - Last day to postmark ballot for general election (must be received by November 10, 2020)
November 3, 2020 - Last day to deliver absentee ballot in person to Board of Elections
November 3, 2020 from 6 am to 9 pm - Election Day
For up-to-date and accurate information on early voting polling sites, how to obtain an absentee ballot, and more, please visit the Westchester County Board of Elections at https://citizenparticipation.westchestergov.com/.
LATEST NEWS FROM NYS LEGISLATURE AND GOVERNOR CUOMO:
Anyone in NYS may request an absentee ballot for the general election and use the temporary illness excuse if they are trying to avoid COVID-19.
Voters can apply more than 30 days before the election for an absentee ballot.  The ballots will be mailed out about September 18, 2020. 
To be sure that your vote is counted, vote early or apply for an absentee ballot today and mail it back as early as possible.

On July 28th, the Pace Women's Justice Center and the LWVNC partnered to present a program on Title IX sexual discrimination laws. The video can be viewed here.
Conversation with Westchester County Executive George Latimer
The League of Women Voters of New Castle invited the community to join in a Zoom conversation with Westchester County Executive George Latimer on July 16, 2020.